Appalachian Spring is Copland's most famous composition; some call it his best. He wrote it for choreographer Martha Graham, who crafted it into a ballet about a frontier couple on their wedding day. Inside this musical tapestry, he wove variations of the Shaker hymn Simple Gifts, little presents for the newlywed pair, so full of youth, optimism, and hope. When the dancers first heard the score, they said it was like sunshine spilling across the floor. Tchaikovsky's concerto is also among the best. Although he wrote such lush, sweeping melodies for strings, this is the only violin concerto he ever composed. It is undeniably brilliant, refreshingly euphoric, and truly inspired. But, because of its virtuosity, many violinists initially refused to play it. Then, despite—or because of—its difficulties, they couldn't resist playing it. We couldn't either. This singular sensation requires the soloist and orchestra to soar, roar, and leave everything we've got on the concert hall floor. It will leave you absolutely breathless and cheering for more.
Tickets: $30, $65
Place your Subscription or pre-order for individual shows now!
PROGRAM
CLARICE ASSAD
Três Pequenas Variações (Three Little Variations)
AARON COPLAND
Suite: Appalachian Spring
TCHAIKOVSKY
Violin Concerto
PERFORMERS
Plymouth Philharmonic Orchestra
Steven Karidoyanes, conductor
Julianne Lee, violin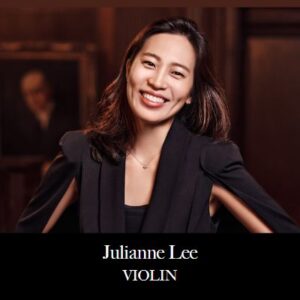 DATE
Saturday, Nov. 4, 2023 | 7:30 PM
VENUE
Plymouth North High School
Performing Arts Center
41 Obery Street
Plymouth, MA
ADD TO YOUR EXPERIENCE!
After-Show Dessert Reception
At Plymouth Center for Active Living, adjacent to the Performing Arts Center. Wine, dessert, coffee; $25.
Pre-Concert Talk with
Steven Karidoyanes | 6:30 PM
at Plymouth North HS Performing Arts Ctr
Free for ticket holders